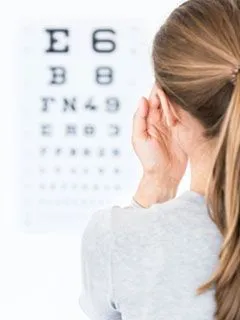 Comprehensive Eye Exams
We offer both adult and pediatric eye exams. We have a wheelchair accessible room for our patients. A complete exam consists of a general health history, history of eye health, a vision check, a refraction (glasses prescription check), check of eye function, and dilation. The doctor examines the anatomy of the eye, structures and function of the anterior and posterior part of the eye. He checks muscle function and looks for problems that can affect the cornea, eyelids, eye lashes and conjunctiva. He continues by examining the lens and posterior sections of the eye. During this part of the exam our Optometrist checks the retina for any signs of disease, the macula for any problems, and the optic nerve for any abnormalities. During an exam we can write a prescription for glasses if needed, detect and treat / manage medical problems such as cataracts, glaucoma, and diabetes. We also offer eye exams for patients with contacts. This includes soft, toric, scleral lenses, orthokeratology and rigid gas permeable lenses.
Medical Office Visits
Medical office visits. We can treat eye infections, eye allergies, dry eye, eye emergencies, foreign material(s) in the eye, eye injuries (including lacerations to the eye and lid), and irritation of the eye and red, itchy, burning, crusty eyes, etc..
Other Exams
Pediatric and Geriatric eye exams
Specialty contact lens exams
Glaucoma Exams
Diabetic Exams
Dry Eye Exams
LASIK consultations
Cataract surgery
Orthokeratology exams
Low Vision Exams